Europe Does Something Right
Kid Various is not one for giving the Euros kudos on anything, but there are some things they do right.
Number one on that list is that they are much more flexible on the pet issue. In Europe, you can take your dog on the subway. You can bring him to a restaurant. In the U.S., your dog has to be a "service dog" in order to qualify for restaurant privileges. Which has led, swear to God, to such things as "therapy dogs" which are licensed to go around and cheer people up. Hell, the Kid can slap a dayglo vest on his own dog and claim he's a "therapy dog." Then Fido could join him for a drink at
T.G.I Friday's.
And quite frankly, Fido would behave much better at a restaurant than most small children.
Now, the city of Turin, where Kid Various once spent several days recovering from a visit to France, has adopted new, even more
stringent laws
to pander to the pet electorate.
Dog owners in Turin will be fined up to 500 euros ($650) if they don't walk their pets at least three times a day, under a new law from the city's council.

People will also be banned from dyeing their pets' fur or "any form of animal mutilation" for merely aesthetic motives such as docking dogs' tails, under the law about to be passed in the northern Italian city.

"In Turin it will be illegal to turn one's dog into a ridiculous fluffy toy," the city's La Stampa daily reported.
Since you can take your dog to work or T.G.I. Friday's, the walking 3 times a day thing is not that big a deal. But even better, the law goes after goofballs from making their poor animals into clownish freaks.

Dog does not look happy.
If that doesn't define animal cruelty
The Kid does not know what does.
This is one of the rare instances where European tendency to legislate against allowing people to do stupid things pans out. Sort of like in France and Germany where you can only select a name for your child from a previously approved list. Thus preventing morons form naming their daughters "Toyota."
Compare and contrast this with the recent referendum in Wisconsin to allow for the
hunting of cats.
That's right, if fluffy don't have no collar on, people in the great Midwest want to be able to pick up a .22 and pop off another of his nine lives.


A proposal to legalize the killing of feral cats is not going to succeed, Gov. Jim Doyle said Wednesday.

"I don't think Wisconsin should become known as a state where we shoot cats," said Doyle, a Democrat who neither hunts nor owns a cat. "What it does is sort of hold us up as a state that everybody is kind of laughing at right now."

Kid Various is more of a dog person, but he'd never look at a cat and think "where's my rifle?"

The rifle is reserved for dangerous turtles.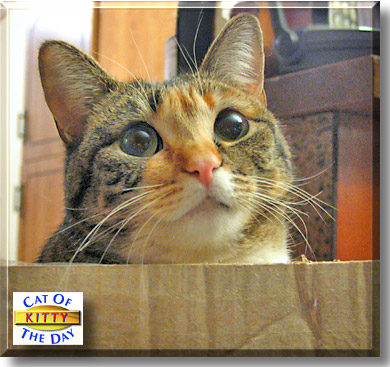 He's coming right at us!
*POP*


P.S. This is NOT a catblog!