A Long Time Ago
A long, long time ago in a suburb far, far away...
Mr. Scriblerus went to
Burger King
and purchased two sets of these
glasses
from
Return of the Jedi
free with my purchase of a large beverage: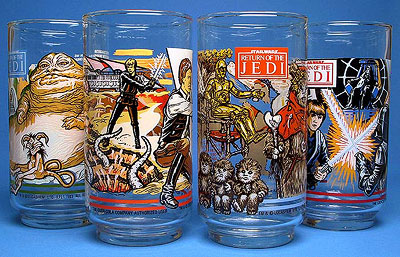 This past weekend, Mr. Scriblerus' Mom cleaned out her attic and unearthed a box with 8 of these glasses in mint condition, not even a chip or a crack, plus a bonus glass from the Empire Strikes Back. OK, it's not exactly a copy of Action Comics #1 or even a Mickey Mantle rookie card, but does anybody know... am I like rich or what? The Force is totally with me on this one, right?
Hey anyone know how to work Ebay?